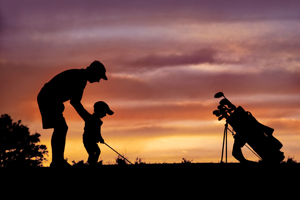 The Van Buren Golf Center, the staff and volunteers take great pride in our Junior Golf Program. The center has actively supported Junior Golf in Riverside, California for over ten years. The program emphasizes all areas of golf including the fundamentals of the full swing, putting and chipping. We also teach the juniors the rules and etiquette of the game of golf. Our PGA pros have taken careful consideration in planning our program to provide the young golfer not only lessons on golf, but lessons on life.

The young golfer will gain many positive tools for golf and life including positive exposure to sportsmanship, social skills and mental control.
Throughout the year, The Van Buren Golf Center offers lessons every Saturday from 9 am to 10 am for junior golfers' ages 3 to 17. Juniors may purchase a SIX (6) lesson card in the golf shop and join us on any six Saturdays of their choice. Please contact the pro shop for more information.

Check out our upcoming events for the year for our junior golf program. During the summer month we will have Junior play days and tournaments at The Van Buren Golf Center Golf Course. The Van Buren Golf Center allows a unique opportunity for the junior golfer to practice what they learn.

Join us every Saturday at 9 am and learn to enjoy "the game of a life time".
If you would like more information on the The Van Buren Golf Center Junior Golf Program, please call (951) 688-2563.

We look forward to seeing you on the links!

Van Buren Golf Center
6720 Van Buren Boulevard
Riverside, CA 92503
Phone: (951) 688-2563