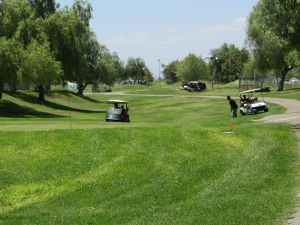 The Van Buren Golf Center hosts an Executive golf course, with 9 holes available in daylight and 9 holes night-lit. Golfers of all skill levels and ages will enjoy playing and improving their game at our course and facilities. The Day course features five Par 4 holes and four Par 3 holes with a great variety of distances. The Night course offers golfers seven Par 3 holes and two Par 4's. The night course is available approximately 1 and a half hours before Dusk.
Don't have a lot of time? NO PROBLEM!
Our average 9 hole rounds are 1 hour and 40 minutes. Instead of four or five hours to play 18 holes of golf, you can finish in about two-and-a-half to three hours at Van Buren. Not only that, but since The Van Buren Golf Center has stadium-quality night lighting, you can play golf DAY or NIGHT!